Healthyroo Teams Up with All About Content
by Tara Lama,
Australian health and wellness brand Healthyroo leaders in health optimising beverages will launch its new integrated media campaign in the first week of June.
Created by the team at Sydney's All About Content the new campaign will showcase the range of Healthyroo dietician developed beverages.
"We know that now, more than ever, there is nothing more important than our health," Healthyroo executive director Tara Prakash Lama says.
"Our team are on a mission to help people of all ages, all shapes and sizes to live their best life and stay in shape.
"Our beverages are designed to optimise physical performance, weight loss and general wellbeing, they are delicious and packed with the goodness of Australian grown organic ingredients.
"Director Dave Wallace and John Dion from All About Content have created a snapshot of the Healthyroo life, overlaid with our guiding principles for wellbeing.
"We are delighted to see our goal of empowering people reflected in our integrated media campaign collaboration." 
Dave Wallace brings the Healthyroo brand to life and thoughtfully crafts a narrative that emulates the truest picture of pure health and wellbeing.
In keeping with the Australian made and owned theme, the visuals were shot entirely in NSW (Kurnell, Cronulla and Yowie
Bay, NSW) using local, Australian talent.
"For Healthyroo we set out to create an authentic picture of health, one that reflected the genuine values of the brand," Wallace says.
"For us, it was important to showcase how health care practices, healthy living and self-care impact our daily lives.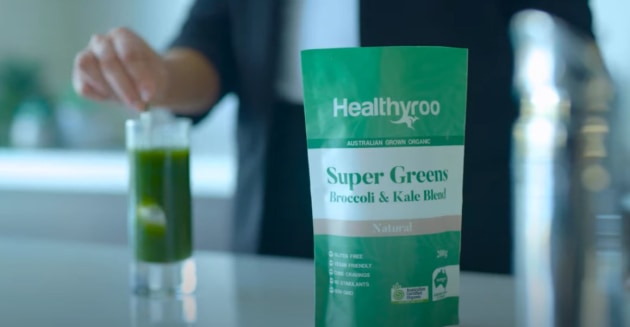 "We wanted to reflect how simple it can be to make a change and achieve your health goals during anytime of the day."
This campaign is the first of its kind for Healthyroo and with it, they hope to raise brand awareness and drive traffic to partner retail and across their website as they continue their journey of inspiring and motivating people everywhere to live their healthiest life.
"We are delighted to be able to elevate the Healthyroo health and wellness journey and share the benefits of their nutritious Australian Made beverages through our advertising and marketing campaign," All About Content managing partner John Dion says.
"We know this campaign will engage, inspire and motivate our audience by sharing the real values of the Healthyroo brand."
The campaign will be shown across digital TV including catch up and web.
Credits
Client Lead (All About Content): John Dion
Director: Dave Wallace
DOP: Patty Rohl
Media: All About Media
Talent: Tessa Nance